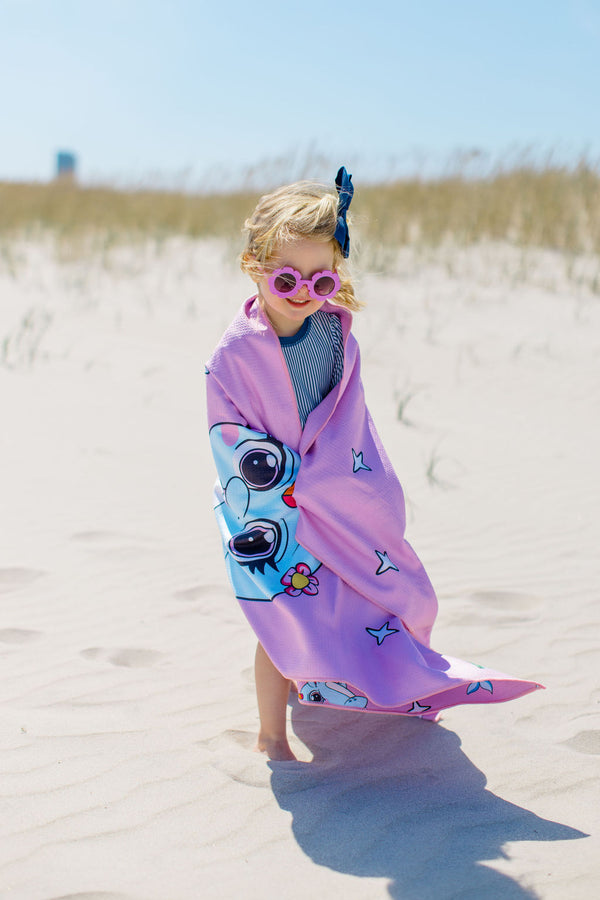 Happy beach days are a given when you're wrapped in a FishFlops® Daisy The Narwhal Eco Beach Towel. Made from 24 recycled plastic water bottles, the soft waffle texture holds twice its weight of water and can dry in half the time of standard towels. The FishFlops® x LowTides Artist Series purpose patch doubles as a convenient hook. Create the perfect playful duo and pair with a FishFlops® Gully Child Beach Chair in Daisy The Narwhal.
Exclusive use for FishFlops® x LowTides Ocean Products
©2023 FishFlops®. All Rights Reserved.
LEARN MORE
FishFlops® + LowTides Artist Series is a kid-centric "shell-a-bration" with playful sea creatures from the studio of the artist, Madison Robinson. Madison is best known as the creator of FishFlops®, a popular line of children's footwear. Madison was born on Galveston Island, Texas, and spent many days on Galveston beaches with her family. Inspired by her surroundings, she created a series of charming sea characters brought to life in her drawings.
In 2006, at the age of 8, Madison drew an outline of a flip flop on paper and sketched her sea characters. She took the drawings to her dad and said, "Look Dad, FishFlops®!"  He purchased www.FishFlops.com that day and her journey began. Over the past decade, Madison and FishFlops® have been featured on national news outlets, The Today Show, Steve Harvey, and Inside Edition, as well as being featured in Seventeen Magazine, Forbes Magazine, Success Magazine, and Yahoo News.  Giant retailers, Nordstrom, Macy's, Walmart, and others, have supported her brand. Several book publishers are featuring Madison's story in thousands of middle schools, to help inspire and educate today's youth.
H20 BOTTLE COUNT
24 plastic water bottles were recycled and transformed into this soft towel.
FABRIC DETAILS
80% recycled PET yarn / 20% Polyamide
Size: 140 x 70cm
FABRIC TECHNOLOGY
Sand-free, rapid-dry, compact and light, ultra-absorbent 
PRODUCT CARE
Machine wash cold with like colors. Do not bleach. Tumble dry, low.
BE THE SOLUTION TO CLEANER TIDES