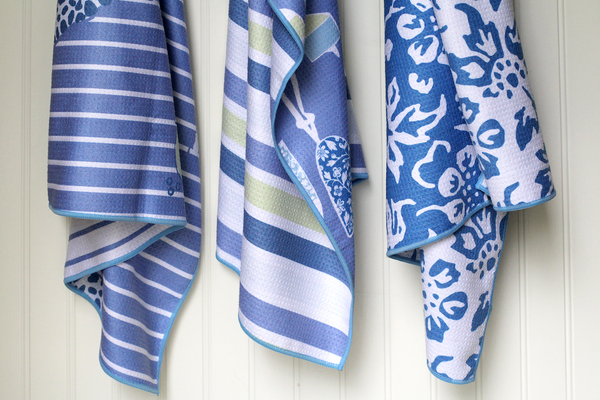 Eco Beach Towels And Blanket
Our high-performance, sand-free Beach Towels and Blanket selection features eco-friendly products, each made with 1lb of recycled water bottles. Spun from recycled PET yarn, our eco beach towels are lightweight, compact, soft in texture, and allow for a long relaxing day at the beach.

A quick-dry towel really can make all the difference, especially when it's time to pack up and go home. Even better: you get a sand-free towel too, making sandy feet and bags a thing of the past. When you've had your fill of beach fun, simply gather your things, roll up your quick-dry towel (there are no sand-catching loops on our sand-resistant towel options, so they're a lot less bulky than traditional alternatives), and be on your way.
A BETTER ECO-BEACH BLANKET
We believe in doing better with our beach blankets. As with our eco-beach towel selection, the nautically-inspired Laura Ashley x LowTides eco-beach blanket is made from 27 recycled plastic water bottles and is rapid-dry, so it's ready to go when you are. Soft, lightweight, and compact, it's a great companion for lingering beach trips and a comfy, planet-friendly option to relax on while you catch the rays.
LowTides Ocean Products Mission
Everyone can be the solution to cleaner tides. 
At LowTides Ocean Products, our mission is to create stylish and durable beach chairs and eco-friendly beach towels made with recycled ocean-bound plastics so you can sit back and save the ocean. Learn more about the LowTides process to keep up with the tides, or contact us for any questions or comments regarding our products today!