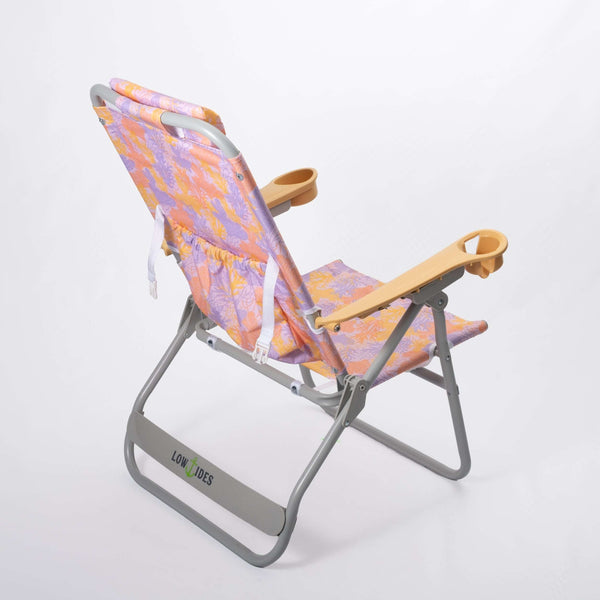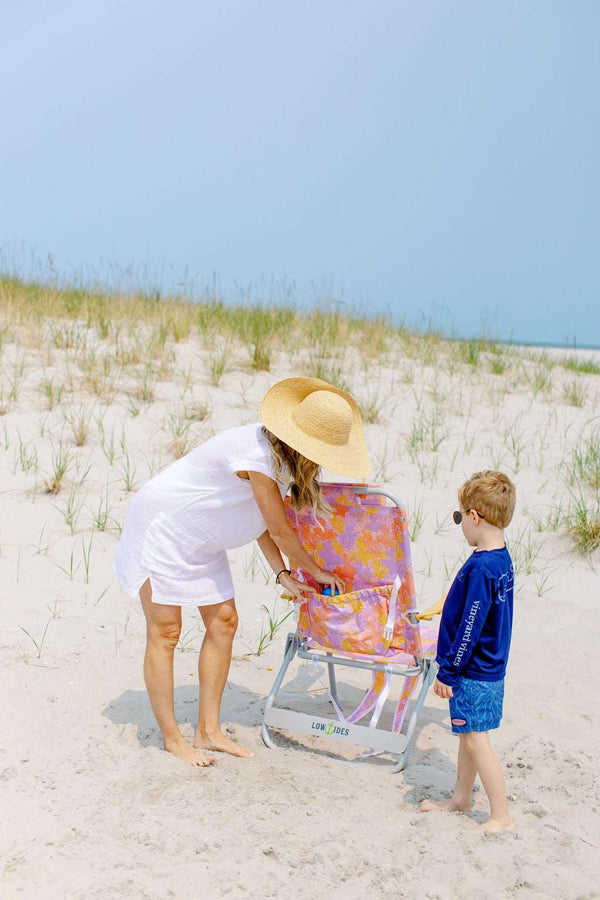 The beauty of a coral reef at the ocean floor is brought to the sand and showcased in pink, purple, and gold coral pattern repeated on our Dune High Beach Chair in Coral Reef.
Each Beach chair is made with REPREVE® water and stain resistant fabric. Each stylish beach chair is made with 100% aluminum, upcycled PPE plastic armrests and kick plate. The seat and back are made from REPREVE® high-quality fibers of 100% recycled materials. Using recycled materials in our products makes every single story and product unique in its ocean origin, look, and feel.
Armrests and kick plate built with upcycled ocean bound plastics

Easy Fold Technology
Adjustable headrest
Elastic rear pouch

5 reclining positions

XL cup holders (2.5inch depth)

15 inches from the sand 

Backpack strap 

Smartphone slot 

Bottle opener

Underarm bag hooks for LowTides Mutlipurpose

 

REPREVE

® 

Beachpac
Weight capacity 250 lbs
Soak up the sun and help save the ocean one LowTides beach chair at a time.

Specifications
Seat Width: 19.9 in
Chair Width: 28.6 in
Chair Height: 37.4 in
Net Weight: 8.8 lbs
Seat Height: 15 in above ground
Recline Height: 26 in above ground
Product Care
Clean with mild soap and water.
Safety Information
This product is intended for outdoor use only.
BE THE SOLUTION TO CLEANER TIDES